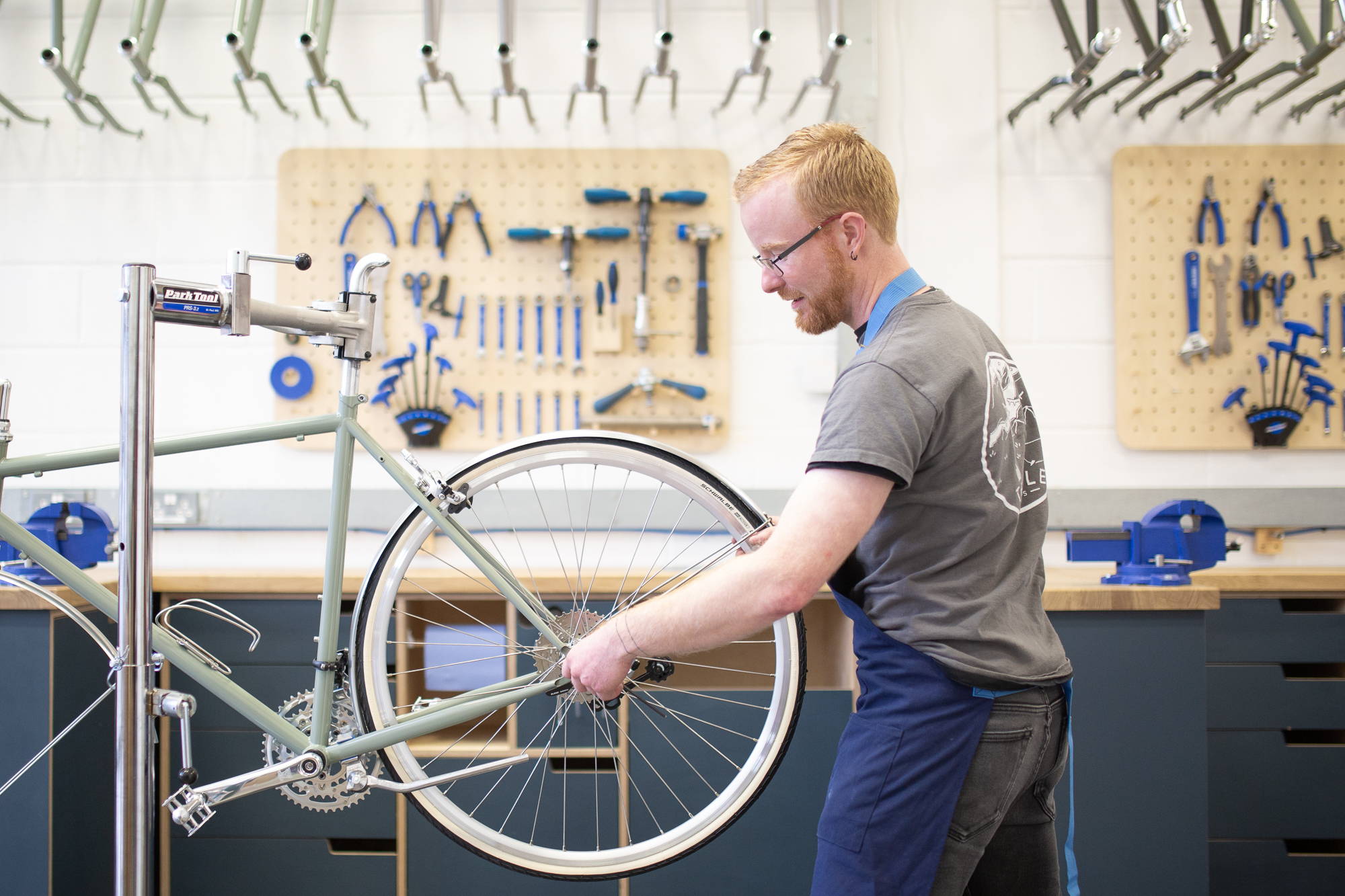 Mudguard installation on a Lichen Green Classic Tour
BUILT TO ORDER IN BRISTOL
Nestled on the edge of Bristol, where the city becomes the countryside, our HQ is positioned in the middle of the UK's highest awarded eco-business park. This is where the core of our team is based. Each bike is hand-assembled to order*. Nothing is rushed. We do things properly.
*Our Metro Range bikes only receive final assembly and tuning in Bristol.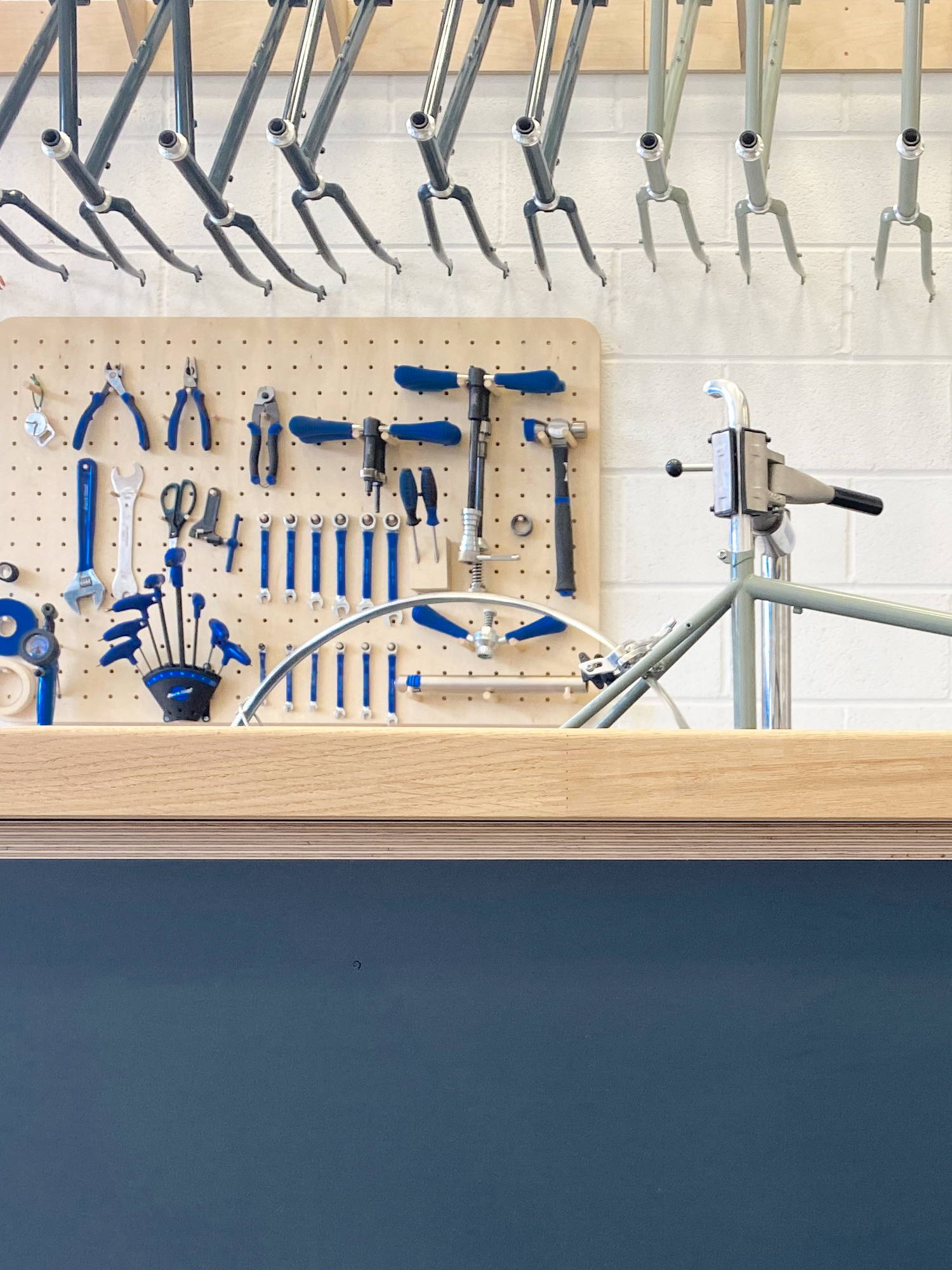 Tool board of Building Bay 3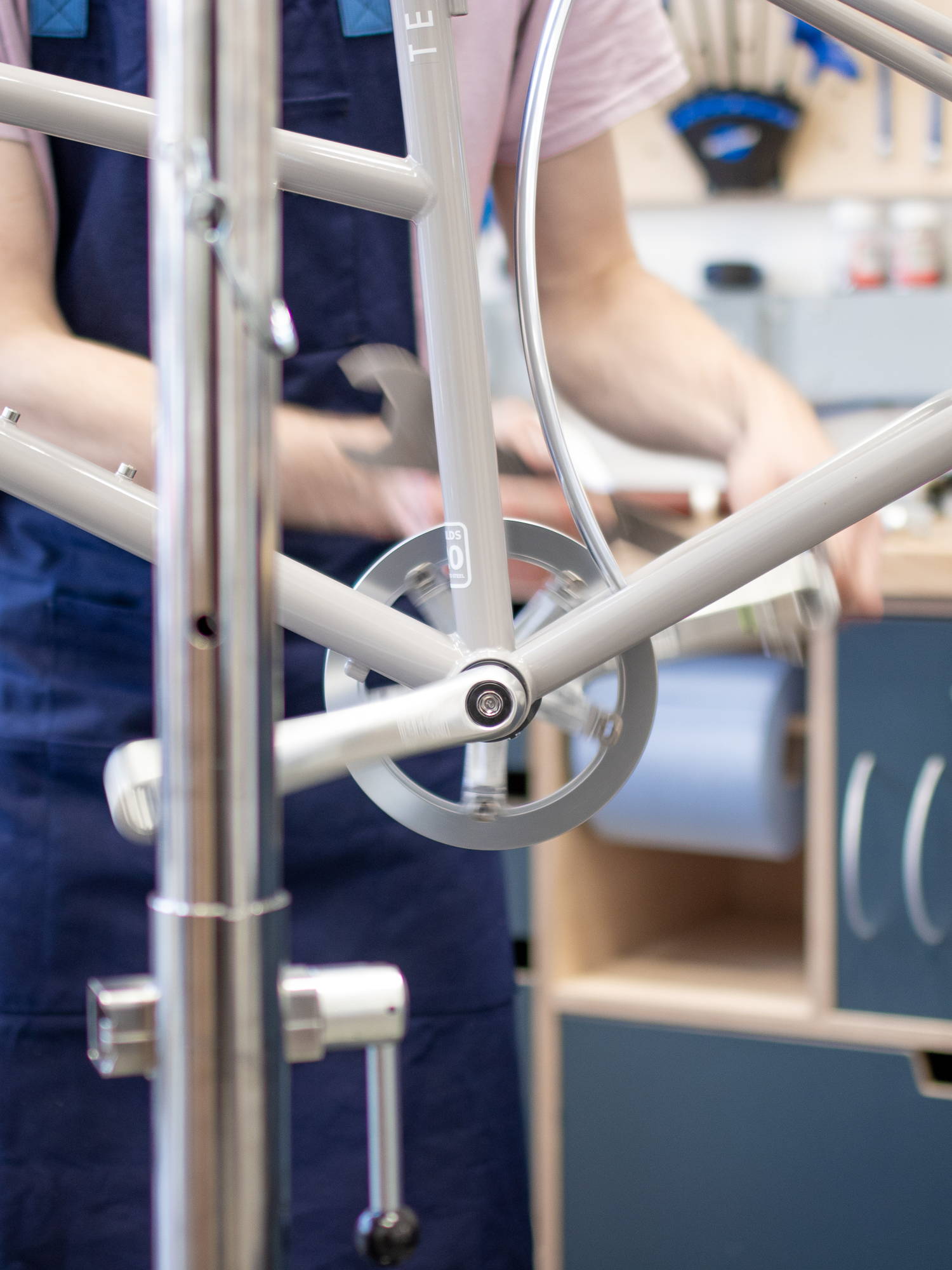 Pedal and crank arm installation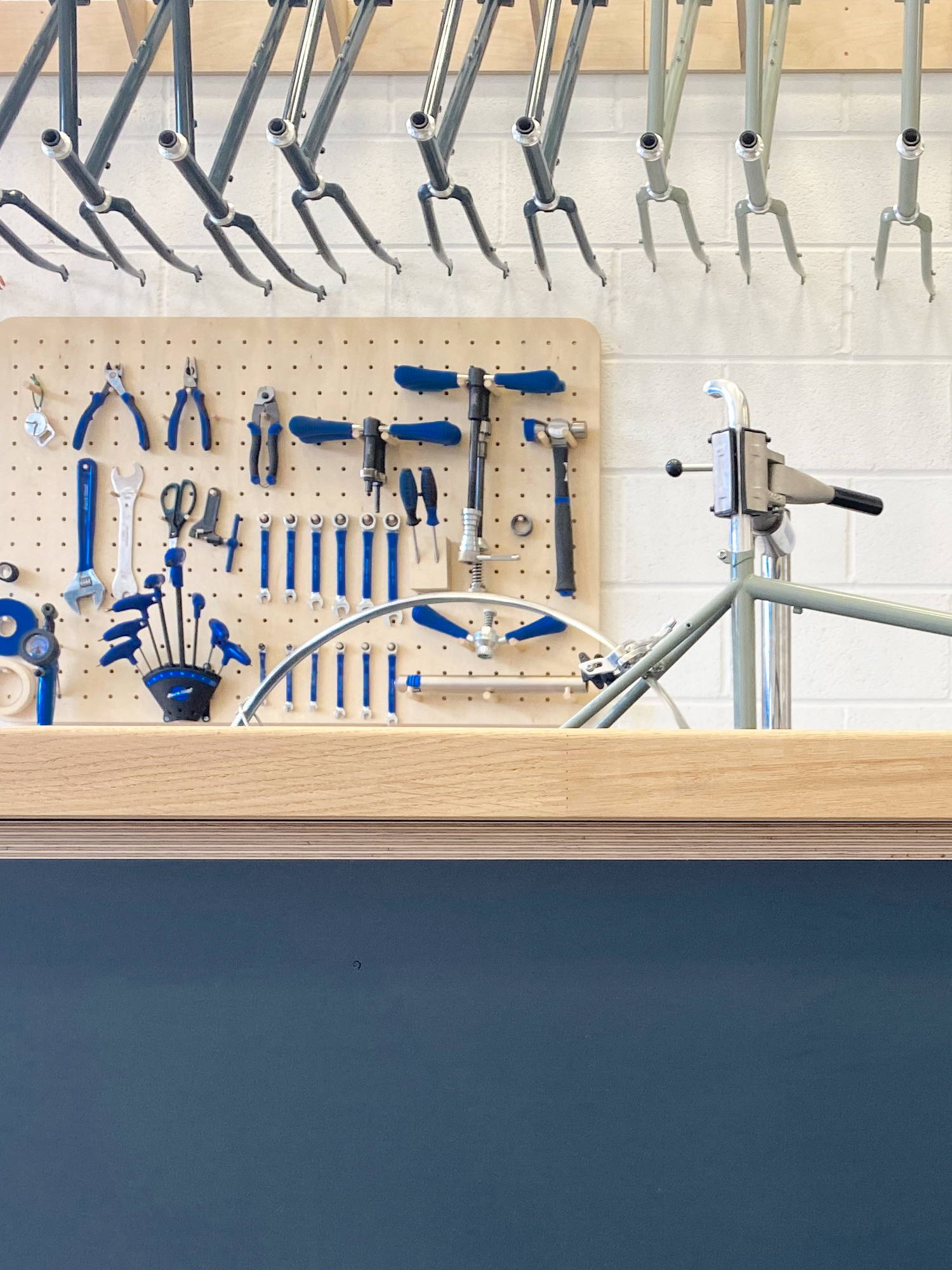 Tool board of Building Bay 3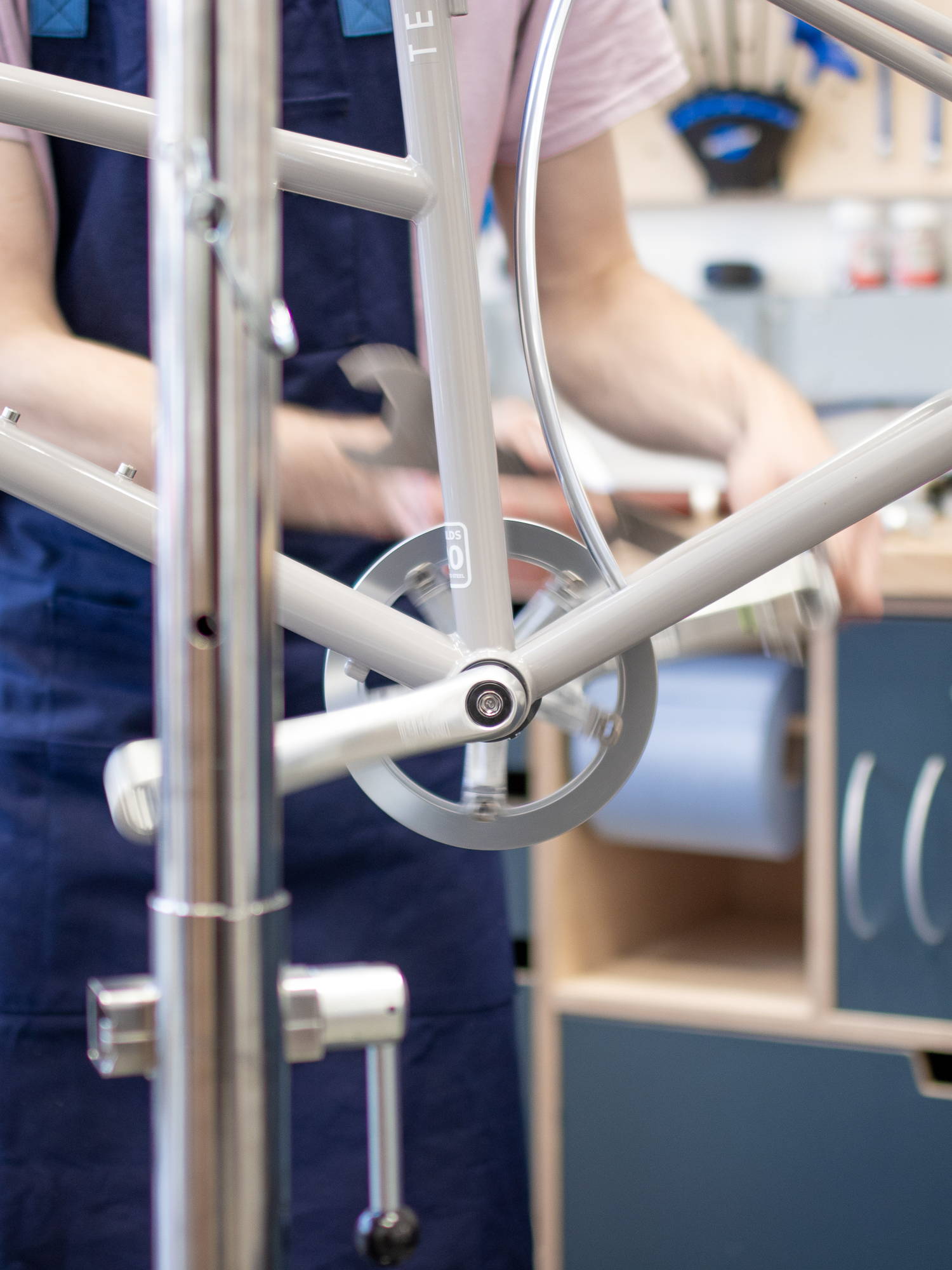 Pedal and crank arm installation
AN INTERNATIONAL APPROACH TO PARTS AND PROCESSES
Creating quality bikes is an international effort. We design, test and assemble all of our bikes here in Bristol, working with specialist suppliers from all over the world to bring together the finest components possible.
Hand assembly: Bristol, UK
Painting: Cardiff, UK
Headbadges: Northampton, UK
Steel frame fabriction: Taiwan and Vietnam
Steel tubing: UK and Taiwan (Reynolds)
Gearing components: Japan
Bearing components: Japan
Alloy components: Taiwan
Leather saddles: Birmingham, UK
Wheel building: Huddersfield, UK
Tyres: Germany and Japan
Tooling: USA
Please note that our more affordable Metro Range bikes are not fully assembled and painted in the UK. These particular bikes are painted and assembled in China and Portugal, receiving final assembly and tuning in Bristol.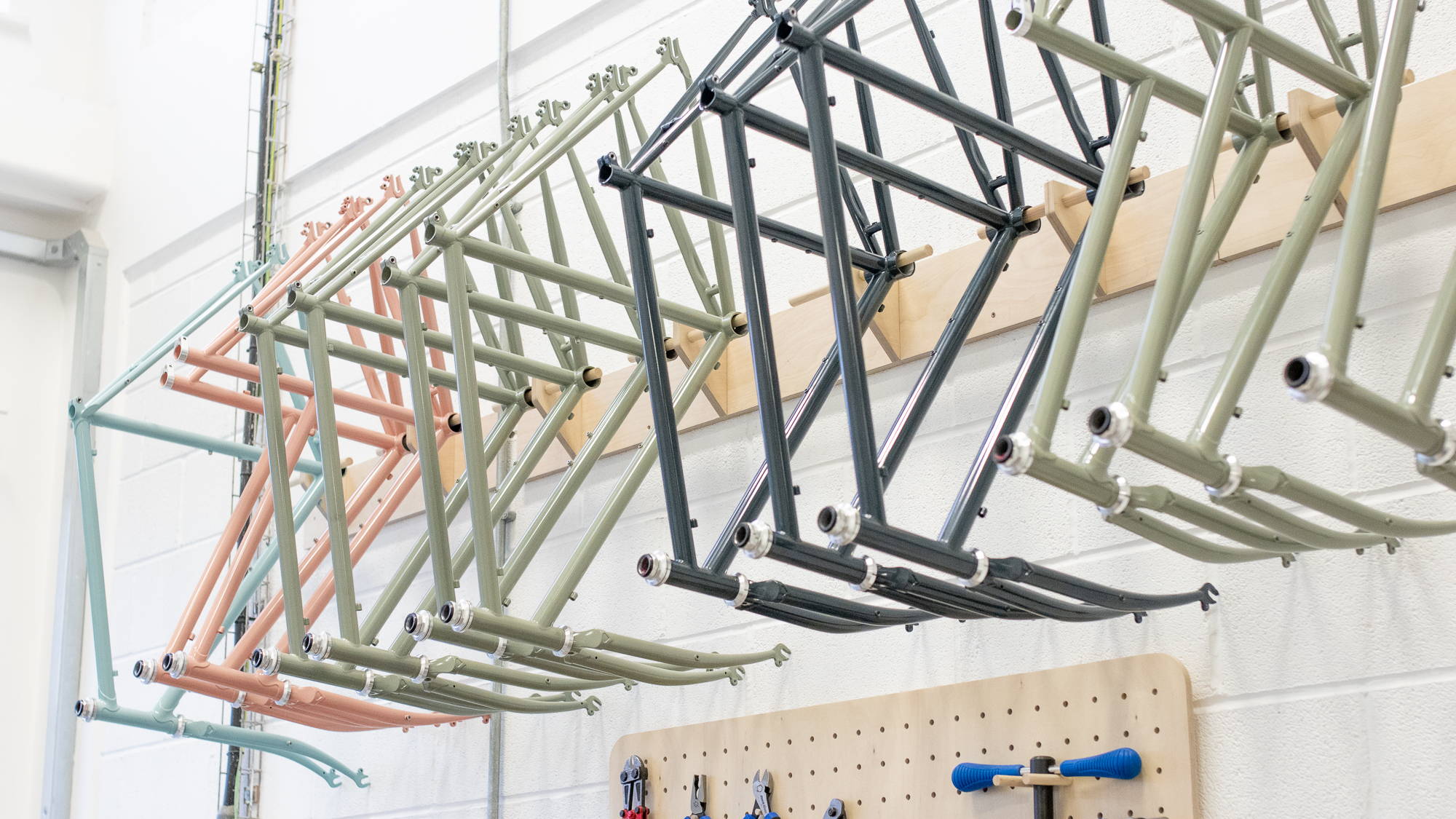 Freshly painted and prepped frames, ready for assembly
We have three frame designs that we have developed continuously since 2014. We've carefully designed them to be simple, lightweight, practical and versatile, keeping a classic aesthetic and riding characteristic.
We work with Reynolds tubing based in Birmingham who develop, design and manufacture the steel tubing. The frames are fabricated in batches by our Taiwanese frame manufacturing partner known for their quality and craftsmanship.
We work with EQC in Cardiff who powder coat all our frames, giving them a protective finish and beautiful pastel tones.
The legendary Geoff Moorhouse carefully crafts our headbadges one at a time.
Reynolds is one of the oldest bicycle material companies in existence. They specialise in butted steel frame tubes, exclusively for the manufacture of high quality bicycles.